A more
human

approach to marketing.
Syndicate Media Management is a full-service marketing agency based in Albuquerque, New Mexico. Our main goal is to get your business more attention through cutting-edge marketing techniques. Anything and everything marketing related we execute on a daily basis for our clients here in the Albuquerque area.

Building a Brand During A Global Pandemic
Our client Philly Steak's approached us with a dream larger than life – a restaurant that features cheese wiz as a side. Partnering with an award-winning chef, they crafted a menu consisting of only the best, high quality ingredients and plates the food like a high dining experience. Oh, and top shelf craft cocktails that require mastery level skills to make.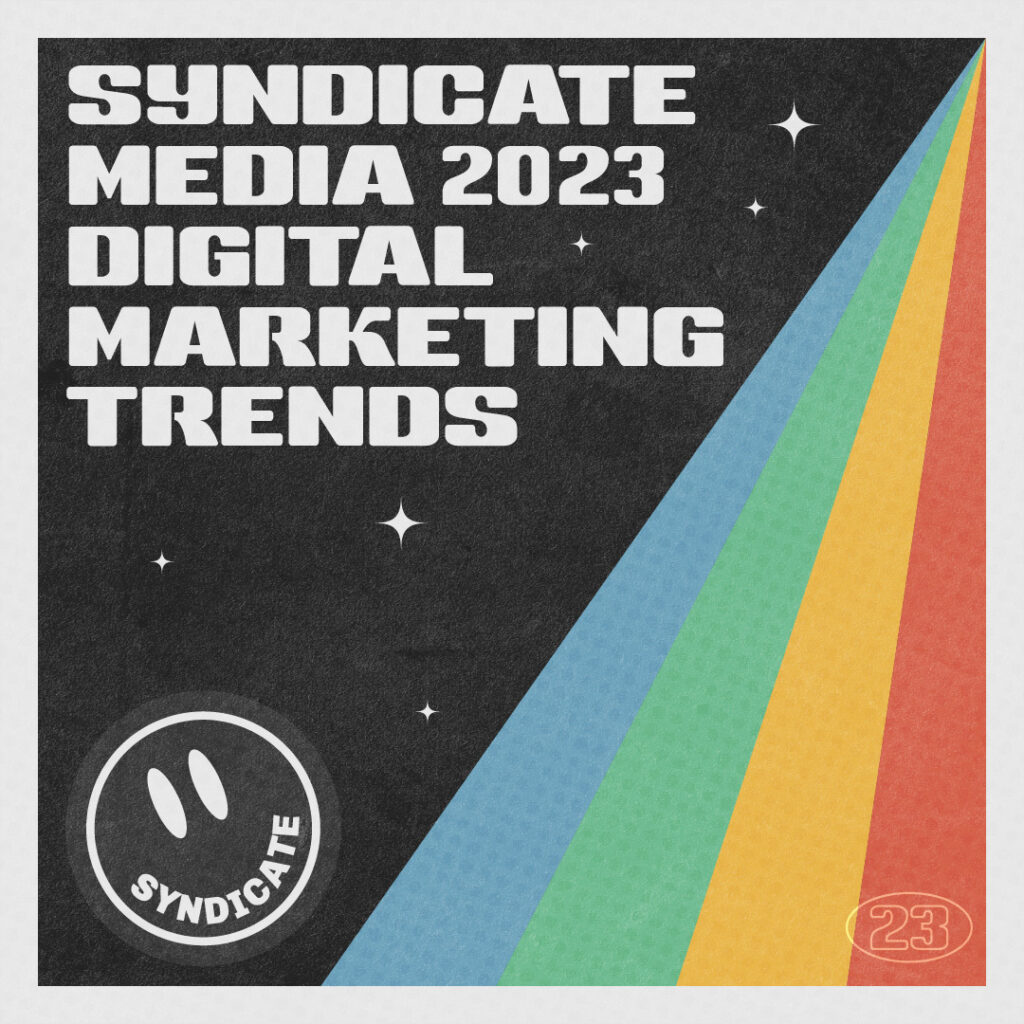 2023 Digital Marketing Trends
As we welcome 2023, the world of content marketing follows in its ever-evolving way. From the rise of artificial intelligence and personalization, to the increasing importance of sustainability and authenticity, the world of marketing is constantly evolving. 
What it's like working with our team
Increase Your Social Presence and Grow Your Business Faster.
We are a full-service team that provides your business with benefits from greater awareness, larger customer list, extra sale force and manage your company's digital marketing and sales thru customized practices and strategies.  We are committed to analysis, innovate and constantly improve to succeed. Build Awareness for your business through digital media platforms including social media and make it to where your business is on the search engine map. Generate qualified leads that convert into sales and business.
We recognize the importance social media marketing has for businesses. We are proud to offer an affordable range of social media marketing plans the truly help small and growing businesses in the Albuquerque area.
Build Relationships, Not Profiles.
Syndicate Media Management works for you to give your business that digital presence in a social world that we live in and that presence directly reflects on your business. We put the best of your business forward and build strong relationships with your audience to keep them coming back for more.
When you partner with the experts at Syndicate MMC you gain a full-service media marketing team. We work to ensure that you are building strong relationships online with your target audience by creating custom, engaging content followed up by extremely targeted digital media advertising and complemented by stunning photography/ videography. The result? Brand recognition. Increased traffic. Spikes in web sales. A loyal audience.
Great work requires great people, and we think ours are some of the best. We're a creative, friendly and diverse bunch, who truly enjoy what we do and the people we work with. Our team spirit, expertise and perspective helps us create solutions that go far beyond just a good idea.
Syndicate Media Management has been a great platform for IBEW 611 to work with. They have increased our audience to another level and taken our company to higher grounds. Once I started my journey with Syndicate, I never looked back!
I would like to give special thanks to Syndicate for doing a phenomenal job with our media, marketing, and monthly campaigns! If anyone needs media or marketing work, they should go to Syndicate!
We have worked with Syndicate Media for over 2 years now. They have been wonderful to work with, easy to work with, they have jumped every time we needed! They have done a great job taking care of us at UA Local 412, NM Building Trades, El Paso Building Trades, SW Piping institute, everywhere we need them.
Syndicate Media not only helped my Financial Agency get exposure, but educated myself on marketing the importance of Financial Planning to the public. This team is highly recommended, and comes with high Professionalism.
Syndicate Media helped us plan and campaign for our 20th Anniversary, and runs all of our social media platforms and are 24/7 helping growing our business.
I've been using Syndicate Media since its inception and they continue to innovate our marketing strategy. Always a great collaborative relationship with their clients. We are a full-service, digital agency that delivers transformative results. Through an integrated approach of human understanding, communication and technology, we create authentic experiences.
Our consumer-centric, data-driven approach creates a seamless journey for your customer across all digital, physical and virtual touchpoints. Your brand matters. We make it matter more.
Brand Identity + Design Systems
Web / Mobile / Connected Devices
In-store / Physical Experiences
Content Development
Copywriting
Video + Photography Production
Management
Strategy
Creative
Engagement
Measurement
Integrated Marketing Strategy
Channel + Campaign Strategy
Creative Strategy + Execution
Channel Planning
Branded Content
Print + Outdoor
Social + Mobile
Email + SMS
Audio, Video, Interactive
SEO
Paid Search
Local
Commerce
Voice
Digital Transformation
Brand Strategy
Customer Experience
Business Innovation
Technical Strategy
Integrated Analytics + Measurement Strategy
Business Intelligence + Performance Analytics
Advanced Marketing Sciences
Reporting Development + Executions
GA4 Migration
Do you have an RFP, just curious or maybe you just need a friend?
We'd love to hear from you.
At the end of the day, we just want to make the internet, social media and our world (digital and physical) a better place to be. It's our mission. It's why we operate. Let's hang out and figure out how to accomplish our missions together.